Nelson organised to ride Mt Grey on the weekend. We (and I invited Derek) were going to ride and Kirsty was going to run. Then she pulled out. Then Derek said he couldn't make, then Nelson decided he had too much to do at his old place, so I decided I'd just go do it myself (with Jet). Left home just after 9 and took about 45-50 minutes to get to the "Lake." Only a couple of months since
last time
, and a year (
almost to the day
) of the previous to that
Left the car at 10 and cruised up the road, not detouring to the singletrack this time, just sticking to the gravel climb. Met one woman riding down. At the Look Out I stopped and took a couple pics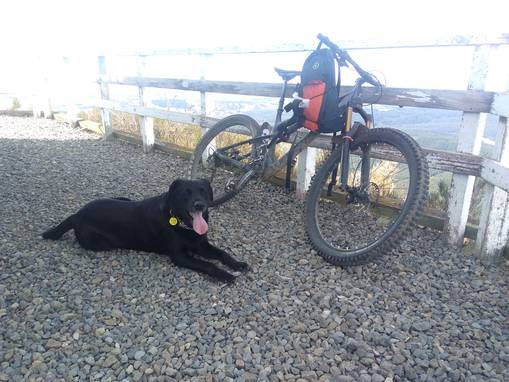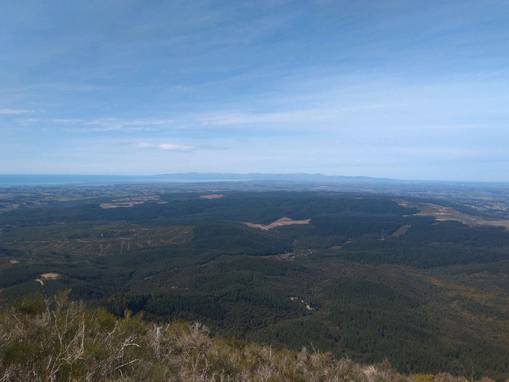 and then walked the steep singletrack to the road above, crossing over and riding the upper singletrack sidle across what, if it isnt, should be called, Sunrise Face. Gorgeous day up here. Warm, sunny, windless - mostly. Tight in the trees, fun climb. Wind over the top was howling in the towers, but so sheltered on my side. Fantastic views. Got to the top at 11.
Took the immediate descent track to the saddle, a few very steep techy rocks to start, then the wind was absolutely blasting across the saddle, nearly pushing me off the bike. Quite tricky. Around into it, dropping down the guts to the singletrack the other direction, around the face, wind lessening a little but still strong in places. Wetspots were still wet, but not bad. Met a quite a few couples walking/running up this section. Switchbacks, then rocks, and then into the trees. Jet on my tail, happy as anything.
Switchback City. Cleaned some, didn't clean some. Usual percentages. Awesome descending. One corner I went round, quite quick, and there's a woman down in the forest below the track. "Hello!" I said, and was onwards cruising, popping and weaving downwards. Creek crossing, more switchbacks. Met someone I knew (Rowan) and her partner(/friend?). Descendy McDescendface. Another couple in the thick of the busiest switchbacks, then good rolling cruising down into the pines and then into the open usually very muddy section, was a bit muddy, but there were greasy 2-wheel-slidey dry enough bits to stay on. Passed a couple of young girls walking up here. Blasty lower sections, stopped to move a few branches off the rutty rooty part, and flowed out the lower half no probls, no more punters. Big drink for Jet in the river at the bottom.
Time for the road. Grindy McGrindface, climbing climbing up and around, met one guy riding a bike down hill towards me at some point, and finally back up to the car, just after 12. Hit the road, and was home by 1.
A
very enjoyable
14.14 kms of country riding 729 m climbing